---

---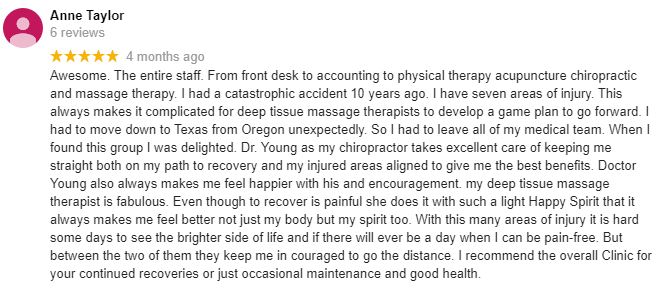 ---

---

---
"Every facet of this office has been beneficial and wonderful.
My body was really failing. I actually believe I was on my way to the ending of my life if I had not come across this wonderful place. I cannot say enough for these people! They are amazing!
I was bouncing off the walls in the morning because I couldn't walk correctly, and in so much pain. Dr. Young was able to get my bones back in working order, and I don't bounce off the walls or scream in pain when I awake, now. He has also given ideas for the gym to strengthen muscle groups that are causing problems. Thank you Dr. Young, now I can bend over and pick things up without so much trouble, and that is just the beginning, we still have work to do. I believe Dr. Young to be a true healer.
I am plagued with fibromyalgia, disautonomia, high blood pressure and a myriad of other health issues, one of those being myoclonus, (involuntary muscle movement, caused by a medication and, I thought, irreversible).
This is worsened by lack of sleep and being over stressed physically or emotionally.
I came in for an adjustment with Dr. Young, after a sleepless night, and the jerking of my legs, (myoclonus), and my inability to walk without falling made the use of my cane a necessity that day.
I was laying on the table for an adjustment, and he asked for a consult with Dr. Ping, the acupuncturist, because I was moving too much to be adjusted and he felt she could also help me.
She suggested I come in and see her twice a week. When I did the fibro, (pain and insomnia), disautonomia, (constant hot flashes and the resulting excessive sweating), calmed down, and pain in my knees as well, (fibro). It is amazing. I keep telling everyone that she is a miracle worker, which I believe she truly is. I want to continue seeing her because she is really helping. I very much look forward to these visits. She is kind and knowledgeable, and easy to talk to.
The people in the physical therapy department are also amazing as are the massage therapists. This place deserves 10 stars."
- Sharon Egger
---
"My name is Dr. Adam C. Egger, Ed.D. I am a retired Air Force Medic, healthcare administrator and educator. During my years in the Air Force as a critical care and emergency room medic, I injured my lower back and neck. I also developed high blood pressure, high cholesterol and asthma. Due to these illnesses I suffer from severe anxiety and depression. Through the years that I have been treated for pain with Opioids I have developing low testosterone and low thyroid function. Six years ago, the pain had gotten so bad that I had to use a cane and scooter to get around. I decided to come to have Acupuncture and Massage Therapy.
The Message Therapy that Nikki performs is a whole body-deep tissue message. She concentrates on my main concerns that I present to her at the beginning of the session. She also follows any additional instructions from Dr. Young such as Cupping Therapy for my hip and lower ribs. The Cupping Therapy is used for the areas that Dr. Young cannot access due to the pain pump that is surgically implanted over 10 years ago for pain control. This therapy helps me to have more energy, reduced aching of my joints and improve my recovery time from the gym.
Dr. Ping uses her Acupuncture techniques to help lower my lower back-neck pain, blood pressure, increase mood, and eliminate built up toxins in my organs. These toxins add to the bodies stress. If these toxins can result in increased headaches, pain, nausea, and depression if not released from the body. Her treatments have helped me increase my energy, improve sleep, and help reduce my pain.
I have been coming for the last three months for Message Therapy with Nikki and Acupuncture with Dr. Ping. With these therapies, I have lessened my pain, increased my energy level, and improved my mood. I all over feel much better physically and emotional than I previously had before. The entire staff are great people and strive to making their patients feel better.
I appreciate all the work that they have done not only for me, but my wife has well."
- Dr. Adam C. Egger, Ed. D